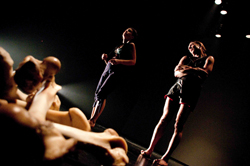 jill sigman/thinkdance at the 92nd Street Y Harkness Dance Festival:
Friday, March 11 and Saturday, March 12 at 8pm
Sunday, March 13 at 3pm
Venue: 92nd Street Y Harkness Dance Center, Buttenwieser Hall
Location: Lexington Avenue at 92nd Street (2nd Floor)
For tickets (please book in advance!-- the house is small):
http://www.92y.org/shop/event_detail.asp?productid=T%2DDP5HP14
In this suite of dances, Jill Sigman asks how we are doing as a species.
Fowl Play
, a duet with guest artist Andre Koslowski of the
Pennsylvania Dance Theatre
and the evening's centerpiece, is a postmodern fairytale that explores the difference between civilized and uncivilized, male and female, animal and human. With Sigman's signature "YouTube-esque" sensibility, comic and devastating, quirky and beautiful moments mix in abrupt and unexpected ways. Guest artists from
GroundWorks Dance Theater
of Cleveland will perform
Split Stitch
, a quartet about tensions and splits in our selves, our society, and our nation. Collaborators include composers
Kristin Norderval
and
Gustavo Aguilar
, and designer Naoko Nagata. There will be bones.
Directions
Heartfelt thanks to our audience task force, The Bone Setters!!!:
Stan Katz, Donna Costello, Jean Steiner, Ben Mellman, Jasmine Ueng-McHale, Lorene Bouboushian, Meryl Lauer Lodge, Monica Lenci, Anne Hege, Chris Henderson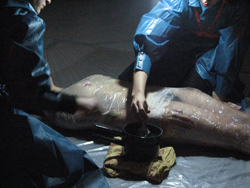 Harvard University: Women, Gender, and Sexuality Studies Conference
Workshop— April 7
Body, Movement, and Gender: Moving and Seeing
What makes movement seem gendered? We will explore this from the mover's and viewer's perspectives through guided movement improvisations, detailed imaging exercises to realign the sternum and skeleton, and experiments in locomotion. We will discuss our observations and experiences. Participants need not have formal movement training, just a willingness to move and a curiosity about their bodies and these issues. Participants of all genders are welcome, particularly trans, queer, and other thoughtful practitioners of gender.
Keynote Performance— April 8
Written On

Choreographer, multi-media artist, and theorist Jill Sigman explores the idea of the body's facticity as underlying, acknowledged, embraced, violated, re-made, feared, or ignored-- but somehow always present-- in theorizing about the body. Her durational performance will involve a ritual with hot wax in which the audience is invited to complete the work. The presentation will allow for varying degrees of experience/participation.
Jill Sigman invites both audience members and those who cannot attend to add to the work by submitting texts in advance of the presentation. Texts will be incorporated into the ritualized "machine" of the work. Please send a theoretical text of your choice that deals with body— your body, women's bodies, the sexual body, the academic body, queer bodies, any bodies... Your text can be any length but shorter texts (one sentence – one page) are preferred. Send your text to:
thinkdance@attglobal.net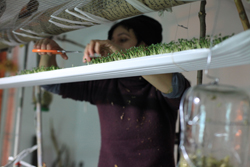 Upcoming TEACHING: Workshop for CLASSCLASSCLASS
The Edges of Performance
Led by Jill Sigman
Location: The Border (1 Grattan Street, Studio 221; Brooklyn; L to Morgan Ave)
June 4 & 5 2-5PM $15/day
[It is encouraged to take both days of the workshop for a more complete investigation, but it is possible to take one day as a discrete experience.]
Where do the edges of performance lie? Does performing rely on a state of mind, a mode of presentation, a kind of activity, an audience? We will investigate these edges beginning with fine-grained movement explorations that are fueled by the visual and aural fields around us. We will then let ourselves be guided by touch, task, and taste, and eventually arrive at explorations of such activities as planting cooking, or building. We will test out the borders of performing through these activities—performing for ourselves, each other, the space, and the street below.
The Hut Project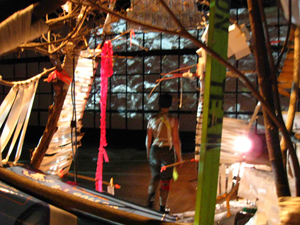 The Hut Project
is an ongoing series of site-based activities that weaves together themes of sustainability, shelter, real estate, nature, and home. Starting last winter, I began building a series of simple structures from found and re-purposed materials. Each hut acts as a catalyst for local activities such as performance, video, collaboration, and community dialogue. The huts are containers—places where the concepts of dwelling, structure, and art object meet. They function as extravagant versions of the 'emergency preparedness kit', vodou 'paquet congo' that derive their power from the objects they contain, experiments in subsistence living, and sculptures that one can inhabit. Activities for
The Hut Project
will vary and change site depending on which hut they are connected to.
Stay tuned for news of Hut #6 (DetritHUS), coming up at the CODA Dance Festival in Oslo, Norway.
Hut #6 will be built at the Norwegian Opera, October 10-22 and accompanied by special performances by Jill Sigman, Kristin Norderval, and Amund Sveen.